The South Lake Tahoe Real Estate market continues to show growth in the Median sales price despite one of the worst snow fall years in Tahoe history. I was born and raised here on the South Shore and I can not remember not being able to find snow on the ground at lake level.
There are a couple of main factors that are contributing to the active real estate market. Low interest rates and a low inventory of houses listed for sale on the South Lake Tahoe MLS has kept the real estate market moving all winter long. The median sales price for single family houses sold is now $350,000 which is up 5.6% from $331,500 year to date. The graph below shows the increase in the median sales price over the last 3 years. The market bottomed out around mid 2012 and has shown an upward trend since that time.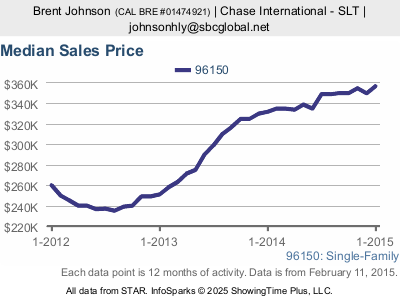 In January there were 45 single family homes that were reported as sold on the South Lake Tahoe MLS. Out of the 45 single home sales, 3 were bank owned foreclosures and there were none were short sales.
The current inventory of homes for Sale in South Lake Tahoe remains low. There are now only 150 active single family listings, 2 of the listings are short sales and 5 are foreclosures.  There are currently 63 properties currently in escrow accounting for 25.5% of the total inventory of available homes. Distress sales make up 12.7% of the properties that are in escrow (6 short sales and 2 bank owned foreclosures).
    Breakdown by price range of the 63 escrows
       Price range                               Number of homes
Under $200,000                                       8
$201- $300,000                                        15
$301- $400,000                                        15
$401- $500,000                                         5
$501-$600,000                                          4
$601- $700,000                                         7
$701- $800,000                                         6
$801- $999,000                                         1
Over 1 Million                                             2
For more information about the South Lake Tahoe Real Estate market please contact Brent Johnson at (530) 416-2625 or email him at Bjohnson@chaseinternational.com today!