The South Lake Tahoe real estate market saw a slight increase in buyer activity throughout the month of January. The number if single family homes and condo/townhouses in escrow rose from only 46 in December to 55 (still down from 64 in January, 2018).
The median sales price also inched upwards from $474,450 to $475,000 which is also up 4.6% from what it was 12 months ago. The 55 properties in South Lake Tahoe that are in escrow represent 23.3% of the total inventory, up from just 17.9% in December.
There are currently 181 active listings on the South Lake Tahoe mls in the city and county areas. This is down from 211 active listings last month and up slightly from 158 active listings in January, 2018. It is typical that we see a low number of available active listings during the winter months and I expect that in April we will start seeing more new listings hitting the MLS.
Here is a breakdown by price range for the current 55 properties in escrow:
Under $200,000- 1 1.8%
$201,000 to $300,000- 2 5.5%
$301,000 to $400,000- 8 20%
$401,000 to $500,000- 13
$501,000 to $600,000- 10
$601,000 to $700,000- 9
$701,000 to $800,000- 7
$801,000 to $999,000- 4
Over $1 Million- 1
There are currently no foreclosure listings or short sale listings in escrow and there is only 1 active foreclosure listed on the South Lake Tahoe MLS.
New construction in South Lake Tahoe continues to be in high demand. There are currently only 10 brand new single family homes listed on the South Tahoe MLS and 4 of the 10 are currently pending.
My new listing located at 1694 Tionontati is a very good option for buyers looking for a brand new home. 1694 Tionontati is located outside of the city limits so it is not subject to the Measure T vacation rental restrictions.
Below is the description and link to the photos:
Brand new Tahoe home with knock out curb appeal, mountain views, and Forest Service/Conservancy land on 3 sides! This impressive new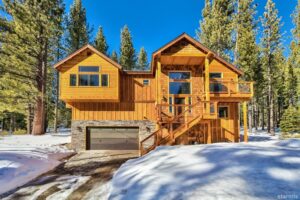 home offers plenty of elbow room between neighbors and an abundance of sunshine. The upstairs great room takes advantage of the forested setting with front and rear decks and includes tall vaulted ceilings, rich hand scraped hardwood flooring, and a rustic stone fireplace highlighted by a wall of beautiful reclaimed barnwood. The impressive kitchen features knotty alder cabinetry, chiseled edge granite slab counters, a pantry, and stainless steel appliances including a 36 gas commercial cooktop and a wine fridge. The master bedroom boasts beautiful mountain views, a contemporary two sided gas fireplace, and walk in closet. The master bathroom is dressed with a sumptuous free standing copper tub, hammered copper sinks, and heated tile floors. Downstairs is a second living area with a third gas fireplace wrapped with ledgestone and a split log mantle!
For more information about my new construction listing at 1694 Tionontati or for any questions related to the South Lake Tahoe real estate market please call Brent Johnson at (530) 416-2625 today!