Brent Johnson was just named the top real estate agent in South Lake Tahoe for the 7th consecutive year for units listed/sold and buyer side sales! Brent was also the top agent in volume with $122,226,532 in sales on the South Lake Tahoe MLS. 2021 was also the 9th consecutive year as the top realtor in South Lake Tahoe for buyer side units sold.
According to the South Lake Tahoe MLS, in 2020 Brent Johnson closed a total of 154 units sold with a total sales volume of $122,226,532 which included 86 listing sales and 68 buy side transactions. The next closest agent had 69 sales.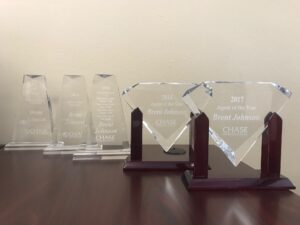 In 2019 Brent Johnson was also the top real estate agent in South Lake Tahoe for units sold with a total of 94 units sold for $56,109,277 in sales volume which included 55 listing sales and 39 buy side transactions. The next closest agent had 24 total sales and $31,830,000 in total volume.
In 2018 Brent had 110 total transactions with over $59,258,110 in volume and 68 sales with over $30,000,000 in volume in 2015.
Brent Johnson is one of the few realtors in South Lake Tahoe that has built his business with a foundation based on hard work, ethics, and cutting edge technology.
"I believe that I have been able to consistently position myself as the top realtor in South Lake Tahoe by creating a business model that no one else in Tahoe has. I believe in working hard for my clients, doing what I say that I am going to do, and utilizing the power of the internet. My background is also a huge asset for me. I was born and raised here in South Tahoe and I started here as a developer/general contractor. I know this town like the back of my hand and I know how to evaluate properties well because of my background."
Having a full-time assistant has enabled Brent to focus on what he does best, selling homes and working with customers. "Janine has been a crucial part of my team and is a valuable asset that allows me to stay efficient and organized. When I am out on an appointment or out showing property Janine is there to respond to emails, take phone calls, and to make sure that no showings or leads slip through the cracks." This has been a big reason that Brent Johnson has been the top real estate agent in South Lake Tahoe.
Working for Chase International is another key to Brent Johnson's success as the top realtor in South Lake Tahoe. Chase International South Tahoe Realty is the top producing brokerage in South Lake Tahoe with 530 total units sold and a total sales volume of $411,394,740. The nearest competitor to Chase had only 217 total sales with a total volume of $183,192,554. "When listing your home with Chase International, you hire an entire team of Realtors and brokers. With my brokers and I working for you, a combined 55 years of experience in the South Lake Tahoe real estate market is on your side. From the pricing of your property through negations and closing, be assured that you will have hired the highest level of expertise and experience."
When listing your property in with the top real estate agent in South Lake Tahoe there are some important marketing tools that he will use to sell your property. Below are just some of the features that are used by Brent and his team.
Professional Photography and Virtual Tours! With over 84% of today's home buyers searching for homes on the Internet, professional pictures are a must. Not only will your property be one of the first that they see online, it will make the top of the "Must See" list with the high quality professional pictures and virtual tours.
Featured Listings! I pay for my listings to be featured on the top Real Estate websites including Zillow.com, Realtor.com, Trulia.com, www.JohnsonsTahoeRealEstate.com, and more.
Maximum Internet Exposure! My website www.JohnsonsTahoeRealEstate.com is one of the most active and user friendly real estate websites in Lake Tahoe. My blog is updated frequently and produces lots of business. My website is at the top of page one for many Google search phrases.
Listing Syndication! Your property listing and professional pictures will be syndicated to thousands of websites worldwide! Not only do I pay for featured listings, I manually upload your listing to Postlets.com, craigslist, facebook, youtube, and many others. With listing syndication your property gains maximum Internet exposure.
Homes and Land Magazine! Even though most home buyers are searching the Internet for properties, I still believe in print advertising. I publish my listings monthly in Homes and Land Magazine. This widely distributed and high quality magazine gives buyers and sellers something to flip through while away from their computer. The professional high resolution photo will insure that your listing stands out above the rest!
Just Listed Postcards! I mail out high quality, glossy, 8"x 5.5" "Just Listed" postcards to property owners in your neighborhood. Some of your neighbors may have friends or family looking to purchase a property and may have a buyer for your listing.
Open Houses! Open houses are a great way to show off your property to home buyers, neighbors, and other Realtors. If my sellers want open houses I give them open houses! Open houses will be advertised in the Tahoe Tribune, the South Lake Tahoe MLS, and Trulia.com.
MLS and Office Tour! Every week the South Lake Tahoe MLS has a caravan style tour of the new listings in South Tahoe. Chase International also has a monthly office tour for our agents to view our new office listings. I am a firm believer in hosting my listings on both tours so that I can market your listing to other local real estate agents.
Marketing Department! Chase International is the only local real estate company with our own marketing department. All of our advertising materials will adhere to Chase's guidelines and will be second to none in quality and materials.
Whether you are a seller or a buyer and if you are interested in working with the top real estate agent in South Lake Tahoe please call Brent and his team at (530) 416-2625 today!
Click here to view recent reviews for Brent Johnson Real Estate
Click here to view recent Yelp! reviews for Brent Johnson Real Estate