North Upper Truckee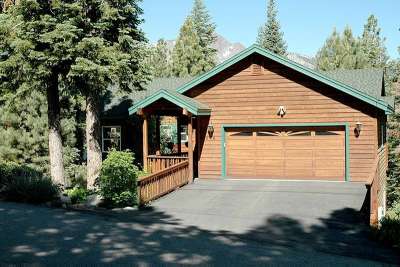 South Lake Tahoe real estate buyers looking for properties with a quiet county setting and a good possibility of privacy should check out the North Upper Truckee area. The North Upper Truckee area begins just southwest of the Y, off of Lake Tahoe blvd.. The area extends south until North Upper Truckee intersects Highway 50. The South Lake Tahoe mls has divided North Upper Truckee in to two areas, North Upper Truckee 1 and 2. North Upper Truckee 1 is the South side beginning at Highway 50 and spans north to Zuni. North Upper Truckee 2 begins on the north side of Zuni and spans north to Tahoe Mountain road.
Many of the lots in the North Upper Truckee area back to National Forest land. North Upper Truckee lots are also larger than most other lots in Lake Tahoe, averaging about 10,000 square feet. Towering pine trees and mountain viewsare very common in the North Upper Truckee area. Homes located at the top of Tahoe Mountain Road in North Upper Truckee 2 have some of the best views in Lake Tahoe. Fallen Leaf Lake, Lake Tahoe, and the surrounding mountains are some of the sights that Tahoe Mountain homes may overlook. Although the Tahoe Mountain views can be breathtaking, the amount of winter snow in this area is substantially more.
In June of 2007 South Lake Tahoe suffered its most destructive fire, and it was in the North Upper Truckee area. The Angora Fire began on June 24th west of Seneca Drive and continued north. The Angora Fire ended up burning over 2700 acres of National Forest Land and 250 structures. Click here to view a map of the area burned by the Angora Fire. Although some homes in North Upper Truckee 1 did not survive the fire, the North Upper Truckee 2 area saw the most devastation. Some streets such as Mule Deer, Mt. Rainier, Mt. Olympia, Pyramid, and Granite Mountain lost almost all of the homes to the fire. Currently there are many new custom homes being built in the areas where the homes were lost. The North Upper Truckee area will be the only area in SouthLake Tahoe that will have streets with all new homes. Although the houses that are being built are big, new, and beautiful, the landscape will take a long time to recover from the fire.
The average size home in the North Upper Truckee area is 1800 to 2000 square feet and sells for between $280,000 to $500,000. Newer view homes on the top of Tahoe Mountain have sold for as much as $2,500,000. North Upper Truckee also has many newer homes that sell from the $500,000′s to the upper $800,000′s. There have been some recent foreclosure and distress sales of smaller cabins and homes in the mid $200,000′s.
North Upper Truckee Homes for Sale

Sorry we are experiencing system issues. Please try again.