Al Tahoe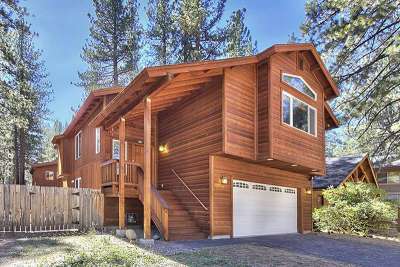 The Al Tahoe Neighborhood is one of South Lake Tahoe's Oldest and most historic neighborhoods and is also one of South Lake Tahoe's most diverse neighborhoods. Houses in the Al Tahoe range from small original cabins built in the early 1900′s, to multi-million dollar lakefront homes. There are also duplexes, triplexes, and small apartment buildings scattered throughout the area.
Al Tahoe is located in the center of South Lake Tahoe between Regan City Beach and Highway 50. Regan Beach is just a short walk from many of the Al Tahoe homes. Other Lake Tahoe Activities close to the Al Tahoe area include the Lakeview Commons, restaurants, Lake Tahoe Recreation Center, Ice Rink, Heavenly Valley Ski Resort, the Casinos, and the El Dorado Beach Recreation Area/boat ramp. Due to Al Tahoe's convenient location, it is a great area for either a vacation home or a primary home.
Most of the houses in the Al Tahoe Neighborhood are built on 5,000 square foot lots, however, there are some homes on larger double lots. Lakeview Ave is on the north edge of Al Tahoe and parallels the Lake. Lakeview Ave is where the lakefront and lake view homes are located. Bellevue Ave and El Dorado Ave border the south and west side of Al Tahoe, and overlook the Truckee Marsh Meadow and Trout Creek. Many of the houses overlooking the meadow have great mountain and meadow views. The majority of the houses in Al Tahoe are not on the lake or the meadow, and most likely back to another house or property.
Al Tahoe Homes for Sale

Sorry we are experiencing system issues. Please try again.